Ashtapad is India's one of the leading steel plate manufacture specialize in steel Sheet steel Plate steel Coil and others products products " Stainless steel, Carbon steel, Alloy steel, Nickel , Other Ferrous & Non-Ferrous metals In Shape Of steel Sheet Plate Coil Etc. Suppliers of Boiler Plate, PVQ Coils, Carbon Steel (SS) Duplex Steel Coils, Stainless Steel Coils, Alloy Steel Coils, Mild Steel Coils, Kovar Coils, Titanium Coils, Tantalum Coils, Nickel Coils, Zirconium Coils, Hastelloy Coils, Incolloy Coils, Cupro nickel Coils, Niobium Coils, Nimonics Coils, HR Alloy Coils, Alloy 20 Coils, Monel Coils, Inconel Coils, Super Duplex Coils, Duplex Steel Plates, Stainless Steel Plates, Alloy Steel Plates, Mild Steel Plates, Kovar Plates, Titanium Plates, Tantalum Plates, Nickel Plates, Zirconium Plates, Hastelloy Plates, Incolloy Plates, Cupro nickel Plates, Niobium Plates, Nimonics Plates, HR Alloy Plates, Alloy 20 Plates, Monel Plates, Inconel Plates, Super Duplex Plates Etc.
Ashtapad offers grades that are certified by ABS (American Bureau of Shipbuilding) and represents the Higher Strength Group of ABS steel plate grades AH36, DH36 and EH36. Like ABS steel plate grade A & grade B, these grades of steel plate are almost exclusively utilized in the shipbuilding industry for the construction of structural parts of ships, barges and marine equipment.
ABS Grade-A/B Plates

ABS Grade-A/B Plates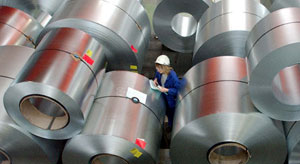 ABS Gr.A / ABS Gr.B / ABS Gr.AH32 / ABS Gr.AH36 / ABS Gr.EH32 / ABS Gr.EH36 SBQ - SHIPBUILDING QUALITY STEEL PLATES ACCORDING TO CLASS SOCIETIES AMERICAN BUREAU OF SHIPPING
ABS Availability

THICKNESS
WIDTH
LENGTH
Grade A
3/16" – 4"
48" – 120"
96" – 480"
Grade B
3/16" – 4"
48" – 120"
96" – 480"
Grade AH36
3/16" – 4"
48" – 120"
96" – 480"
Grade DH36
3/16" – 4"
48" – 120"
96" – 480"
Grade EH36
3/16" – 4"
48" – 120"
96" – 480"
Shipbuilding Quality / Grade Plates

LRS Grade A, Grade B, Grade D, Grade E - Available ex-stock
ABS Grade A, Grade B, Grade D, Grade E - Available ex-stock
DNV Grade A, Grade B, Grade D, Grade E - Available ex-stock
RINA Grade A, Grade B, Grade D, Grade E - Available ex-stock
GL Grade A, Grade B, Grade D, Grade E - Available ex-stock
BV Grade A, Grade B, Grade D, Grade E - Available ex-stock
Class NK (NK) Grade A, Grade B, Grade D, Grade E - Available ex-stock
KR Grade A, Grade B, Grade D, Grade E - Available ex-stock
LRS DH32, EH32, FH32 - Available ex-stock
ABS DH32, EH32, FH32 - Available ex-stock
DNV DH32, EH32, FH32 - Available ex-stock
RINA DH32, EH32, FH32 - Available ex-stock
GL DH32, EH32, FH32 - Available ex-stock
BV DH32, EH32, FH32 - Available ex-stock
Class NK (NK) DH32, EH32, FH32 - Available ex-stock
KR DH32, EH32, FH32 - Available ex-stock
LRS AH36, DH36, EH36, FH36 - Available ex-stock
ABS AH36, DH36, EH36, FH36 - Available ex-stock
DNV AH36, DH36, EH36, FH36 - Available ex-stock
RINA AH36, DH36, EH36, FH36 - Available ex-stock
GL AH36, DH36, EH36, FH36 - Available ex-stock
BV AH36, DH36, EH36, FH36 - Available ex-stock
Class NK (NK) AH36, DH36, EH36, FH36 - Available ex-stock
KR AH36, DH36, EH36, FH36 - Available ex-stock
LRS AH40, DH40, EH40, FH40 - Available ex-stock
ABS AH40, DH40, EH40, FH40 - Available ex-stock
DNV AH40, DH40, EH40, FH40 - Available ex-stock
RINA AH40, DH40, EH40, FH40 - Available ex-stock
GL AH40, DH40, EH40, FH40 - Available ex-stock
BV AH40, DH40, EH40, FH40 - Available ex-stock
Class NK (NK) AH40, DH40, EH40, FH40 - Available ex-stock
KR AH40, DH40, EH40, FH40 - Available ex-stock


We mainly stock the Plates of following make :
Azovstal Iron & Steel - Ukraine
Alchevsk Iron & Steel - Ukraine
Ilyich Iron & Steel - Ukraine
ArcelorMittal Steel - Romania
Thainox Steel - Taiwan
Iscor - South Africa
Salzgitter Mannesmann - Germany
ThyssenKrupp Steel - Germany
ThyssenKrupp Stahl - Germany
Dillinger Hutte - Germany
Rautaruukki - Finland
Voestalphine Grobblech - Austria
Corus - U.K
Posco - Korea
InduSteel - France
InduSteel - Belgium
SSAB - Sweden
Kobe Steel - Japan
JFE Steel - Japan
Japan Steel - Japan
Nippon Steel - Japan
Severstal - Russia
SAIL - India
Jindal Steel - India
TATA Steel - India



Inspection & Approval Certificates : EN10204 3.1 / DIN 50049 3.1 / ISO 10474 3.1 Mill Test Certificate, NACE MR-0175 / ISO 15156, NACE MR-01-03 / NACE MR-01-75 / ISO 15156, CE Marked, European Pressure Equipment Directive PED-97/23/EC, AD-2000-W0, ASME Boiler & Pressure Vessel Code Sec.II Part A Ed. 2008, with 3.2 certificate duly Certified & Approved by LRS (Lloyd's Register), GL (Germanischer Lloyd), BV (Bureau Veritas), DNV (Det Norske Veritas), ABS (American Bureau of Shipping), SGS, TUV, RINA, IRS (Indian Register of Shipping), Class NK (Nippon Kaiji Kyokai), KR (Korean Register of Shipping), NORSOK Approved Standard M-630, M-650 Rev.3
If you have any requirement of above items, please feel free to contact us
CONTACT US ::
Ashtapad Overseas
102 , 1ST Floor, Siddha Shila Building.,
Near Lilawati High School, 379 S.V.P. Road ,
Mumbai- 400004 (India).

Tel : +91-22-23841700
+91-22-67437666
+91-22-66595333
Fax : +91-22-23868298
E- Mail : export@ashtapad.com
Web : www.ashtapadoverseas.com
ONLINE ENQUIRY FORM ::
| | |
| --- | --- |
| Alloy Steel Plate SA 387 / A 387 | In the manufacturing of process heating equipments like boiler/ ducts / hot rollers / containers, if the temperature exceeds 450 Degree Centigrade and with in 550 Degree Centigrade, then boiler quality alloy steel plate can be efficiently used to fabricate Steam Drums, Mud Drums, Dished ends etc. |
| | |
| Alloy Steel Pipe SA 335 – A 335 | In the process heating like boiler/ chemical industries / paper, if the temperature exceeds 450 Deg c and with in 550 Deg c. then boiler quality alloy steel can be efficiently used for headers, risers, main steam lines etc. ASME specifies a set of Alloy Steel pipe specifications Which can be welded - Welding rod Specification is : E.8018. |
| | |
| A 106 /API 5L/A53 Gr.B SEAMLESS Pipes And Tubes | We are the stockholders of carbon steel pipes and carbon steel tubes. We offer a huge array of pipes and tubes that are manufactured using high quality of steel and alloy. The standard sizes range from 15 NB up to 1200 NB IN SCH 5S, 10S, 10, 20, 40S, 40, STD, 60, 80S, 80, XS, 100, 120, 140, 160. |
| | |
| Wear Resistant Steel | Abrasion resistant carbons steel alloy for use in the harshest working environments such as the mining industry |
| | |
| | |
| Pressure Vessel Steel | Low, medium and high yield carbon steel pressure vessel plates available for a variety of industrial applications |
| | |
| Boiler Steel Plate | Supplied to a variety of specifications including ASME SA516 Grade 60 and ASME SA516 Grade 65 |
| | |
| Chrome Moly Steel | Providing increased strength and performance under high working temperatures, our chrome moly plate is available in a variety of types |
| | |
| Clad Plates | Clad plates are a highly effective low cost steel plate alternative used readily by the construction and shipbuilding industry. |
| | |
| Structural Steels | Ultra High Yield Plates supplied to the construction industry – just one example of the many different grades of steel we supply for structural use |
| | |
| HIC Resistant Steel | HIC (hydrogen induced cracking) Resistant Steel is ideal for use in sour service / wet H2S working environments |
| | |
| | |
| | |
| Stainless Steel Plates | A variety of grades available for use in anti–corrosive envrionments or for aesthetical puproses |
| | |
| Heat Resistant Steel | Ashtapad Overseas supplies steel which is ideal for high temperature working environments such as blast furnaces and incinerators |
| | |
| Structural Steel Sections | Steel sections including universal beams, universal columns, hot rolled angles and parallel flange rolled channels |
| | |
| Pipes/Tubulars | Champak Industries have a sizeable stockholding of seamless steel pipes and hollow sections |
| | |
| Hot Rolled Plate | High quality hot rolled steel plate for the chemical, oil and gas industries |
| | |
| B 209/ B 209 M | ALUMINUM AND ALUMINUM ALLOY SHEET AND PLATE. GRADE ALLOY 1016 , 1060 TEMPER 0 , ALLOY 6061 , 6063 TEMPER H 12 H 14 ,T4,T6 |
alloy and stainless steel plate
structural steel XAR 400 plates
structural steel XAR 400 plates manufacturers
structural steel XAR 400 plates Exporters
structural steel XAR 400 plates Stockist
structural steel XAR 400 plates Suppliers
carbon structural steel XAR 400 plates
alloy and stainless steel plate
structural steel XAR 300 plates
structural steel XAR 300 plates manufacturers
structural steel XAR 300 plates Exporters
structural steel XAR 300 plates Stockist
structural steel XAR 300 plates Suppliers
carbon structural steel XAR 300 plates
alloy and stainless steel plate
structural steel XAR 600 plates
structural steel XAR 600 plates manufacturers
structural steel XAR 600 plates Exporters
structural steel XAR 600 plates Stockist
structural steel XAR 600 plates Suppliers
carbon structural steel XAR 600 plates
alloy and stainless steel plate
structural steel XAR 500 plates
structural steel XAR 500 plates manufacturers
structural steel XAR 500 plates Exporters
structural steel XAR 500 plates Stockist
structural steel XAR 500 plates Suppliers
carbon structural steel XAR 500 plates
Alloy Steel Plates SA 335
Alloy Steel Plates SA 335 Supplier
Alloy Steel Plates SA 335 manufacturers
Alloy Steel Plates SA 335 Exporters
Alloy Steel Plates SA 335 Stockist
carbon Alloy Steel Plates SA 335
alloy and stainless steel Plates SA 335
Alloy Steel Plates SA 3871
Alloy Steel Plates SA 3871 Supplier
Alloy Steel Plates SA 3871 manufacturers
Alloy Steel Plates SA 3871 Exporters
Alloy Steel Plates SA 3871 Stockist
carbon Alloy Steel Plates SA 3871
alloy and stainless steel Plates SA 3871
hot rolled steel plates
hot rolled steel plates Supplier
hot rolled steel plates manufacturers
hot rolled steel plates Exporters
hot rolled steel plates Stockist
carbon hot rolled steel plates
alloy and stainless steel plates
Alloy Steel Plates SA 3351
Alloy Steel Plates SA 3351 Supplier
Alloy Steel Plates SA 3351 manufacturers
Alloy Steel Plates SA 3351 Exporters
Alloy Steel Plates SA 3351 Stockist
carbon Alloy Steel Plates SA 3351
alloy and stainless steel Plates SA 3351
Alloy Steel Plates SA 387
Alloy Steel Plates SA 387 Supplier
Alloy Steel Plates SA 387 manufacturers
Alloy Steel Plates SA 387 Exporters
Alloy Steel Plates SA 387 Stockist
carbon Alloy Steel Plates SA 387
alloy and stainless steel Plates SA 387